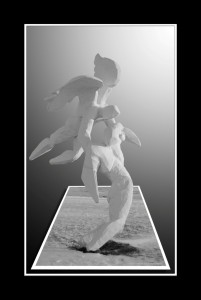 The winds blew bitter cold that day. And well they should. It was March after all, winter still in Buffalo, NY. A town famous as any for it's incredible snowfall.
But I was determined to try out my new camera. It was my first digital camera, the Nikon D-40.
If you're a Canon user, I hope you won't hold that against me, because what I discovered that day set in motion a series of events that dramatically changed my life.
My destination may seem a bit odd to some, but I assure you it rivals some of the greatest parks in the country for its scenery. It should after all.
Listed on the National Register of Historic Places it serves as a permanent resting place for the likes of President Millard Fillmore, Red Jacket, and George Pierce, founder of the Pierce-Arrow fine motor car company. "Punk Funk" music legend Rick James is also resting here.
The rolling hills of Forest Lawn, a 270 acre urban cemetery, hold dozens of beautiful statues and monuments. All crafted by great artists and architects. Frank Lloyd Wright's Blue Sky Memorial sits on the banks of the smaller of two lakes here.
It happens to be a beautiful, quiet place to walk; to take photos of great statues or stained glass windows. But man is not the only art found here. Nature offers up its own beauty too.
I spied a young deer one morning, as curious about me and my camera as I was about him.
A Blue Heron played with me for nearly 30 minutes as I chased him around Mirror Lake hoping to get a photo. Each time I got close, he flew to the other side!
The elusive Blue Heron is just one of over two hundred bird species that can be seen here. Beware the numerous geese lest you be chased after ignoring the warning honks and hisses.
With its endless rolling hills and constantly changing scenery you get lost in history as you wander this magical place in search of your next photo.
You walk, you bend, you squat down to grab a better angle, a unique perspective.
In fact, my hands grew numb that day. The temperature was a mere 38 degrees. And it's difficult to wear gloves and take photos. All told, I was out for 45 minutes when I could stand the cold no more.
But I felt good afterwards. Really good.
Just out of curiosity, I went online to see if all that walking, and bending, and squatting might have done me some good.
A great big smile lit up my face when it hit me. It seems what I was doing was something you probably already know. It's called exercise!
All the time I was out there I was so preoccupied with getting great photos I never realized I was getting one of the best, low-stress exercise workouts in the world.
Walking is the doctor's favorite "go-to" for treating all sorts of ailments. Obesity, arthritis pain and stiffness, depression, low energy, and so much more.
While doing my research, I discovered that in squatting down to get a better perspective, I was actually burning 3 times as many calories as walking!
A double benefit – better pictures, faster weight loss.
It turns out photography can be an excellent way to get fit and stay healthy while having fun.
I lost 10 pounds that Spring, just from my photo walks.
But my favorite part was coming home with photos to share and mold into great art using Photoshop.
It was that immediate gratification that got me out of bed early and kept me going back out there day after day.
If your body could use a tune-up, grab your camera and head out for some fun. Join the many others like me who have discovered The Photo Fitness Phenomenon.
For a complete A to Z list of the benefits photography can provide, grab your download of the newly published  Photo Health Manifesto.